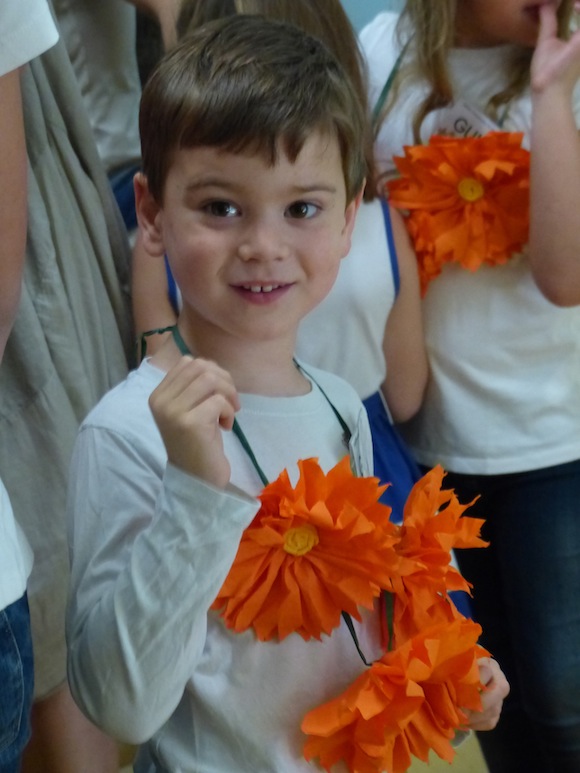 Spello is pazza for flowers. You've seen the photos of streets heaving with glorious blossoms, you've read about the tradition of laying petals into carpets of surpassing beauty, so this should come as no surprise. But what is surprising is that this flower fixation is more than just a display for tourists or the Spellani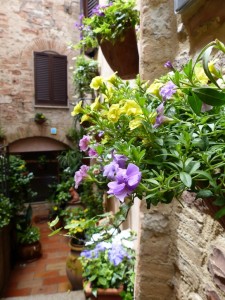 equivalent of having the fanciest front porch. It goes much deeper. First of all, I love that every nook and cranny is festooned. Even the doorways up hidden streets that tourists never venture. Spellani flower to please themselves. I love that.
Last week, after a stunning dinner of trout and home-cured capers at Barbara and Mario's house, Keith and I went to Piazza Vallegloria to watch the award ceremony for Spello's annual competition of balconies, steps, and windows. We arrived an hour late, so pretty much when the award portion of the evening was beginning. It's taken us a year, but we've learned how to time our attendance. Firstly for Italian tardiness, and secondly for the parade of speeches. We did have to stand through the tail end of the speakers, but since there were photos of the entries being projected onto the church wall, and the night was a heavenly mix of warm with sweet breezes, we didn't mind.
Our neighborhood emerged victorious in the competition, with the stairs in the alley below us taking second place in the stairs and doors category, and the alley that leads to Paola's garden taking first in the alley category. Much celebrating and cheering. There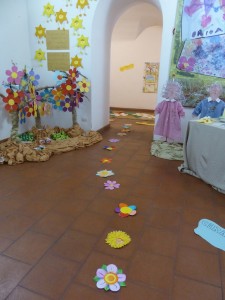 had been much neighborly support for each other's contributions, so the second place and first place winners huddled and laughed together in a way that Keith and I found delightful.
But the current emphasis on flowers centers on a grander stage. Every year, 12 countries compete in what's called the "Entente Florale Europa." It is a competition designed to encourage a better way of life—greener and more vital—for those who live in urban areas. As such, there are several levels of judging. One is the beauty of the town, in particular focusing on the botanical richness. But the judges also observe the town itself. How it protects its heritage, how it encourages green living. In essence, how it preserves the old way of life while still looking to the future.
Each country selects a village and a town/city to compete in this European competition. Italy nominated Spello in it's town/city category. And so last week, the day our friends arrived, a multi-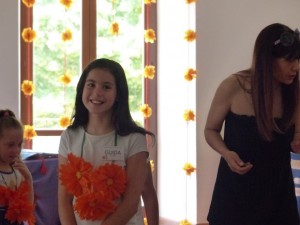 national jury arrived. Gabe and Siena were selected by their school to take part in an English language presentation. Gabe greeted the jury, introduced the middle school band who played "Waltz of the Flowers.", and led the jury from station to station within the school. At each station, a student explained how the school incorporates learning about the environment, the seasons, and community, while standing in front of a visual aid created by a class. The last station was Siena's, who recited a quote from Saint Francis,
"He who works with his hands is a laborer.
He who works with his hands and his head is a craftsman.
He who works with his hands and his head and his heart is an artist."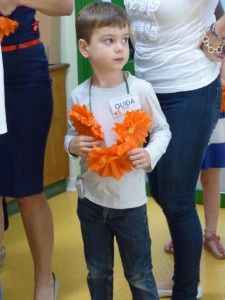 Nicolas and I (Keith was at the airport) were able to observe the prova (run-though), but had to leave before the jury arrived. Siena assures me that during the actual performance she spoke with a voce alta (in the prova she sounded very meek, and refused to recite her lines, choosing to read them as that is what everyone else–except Gabe, the only other native English speaker—did). She says that she realized if she looked at her lines on the paper, she'd fidget, and anyway the giant, black video cameras in her face propelled her to give her best performance.
Gabe was the first of my two to emerge from the school at the culmination of the event. Glowing in his orange flower necklace that each child wore. Paola pulled him against her, and asked me if they might be able to borrow Gabe, as the jury was coming to her garden. Gabe and I readily agreed. From my stalking position on the loggia, I couldn't entirely tell what was happening, other than a line of people were ushered into the garden, Paola and others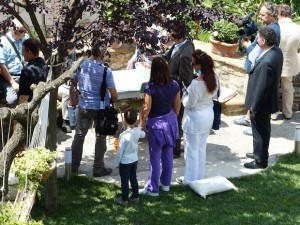 spoke, with a translator for the jury. Gabe spoke as well, but I couldn't hear his voice. And then Paola directed Gabe to dip his hands into what looked like a basin of petals. When he came home later, he said this was in honor of a Saint's day, and later I stumbled across a reference to Saint Giovanni's feast day (June 24), on a website that I have consistently found helpful in understanding Umbrian traditions. What I learned is that on Saint Giovanni's feast day, Umbrians place flowers and petals in water and allow them to sit overnight to receive a blessing from the Madonna and Saint John and absorb the morning dew. The next
morning, family members clean their hands, face, or body with the fragrant water, in a sort of mystical ablution.
I'm sorry I didn't know about this with enough notice to incorporate it into our year, but I'm glad that Gabe got a chance to partake. He said the water smelled wonderful, and he enjoyed plunging his hands into the basin.
The unexpected benefit of the jury's arrival on the day of our friend's arrival is that Spello was showcasing its embrace of tradition. That is, there were people in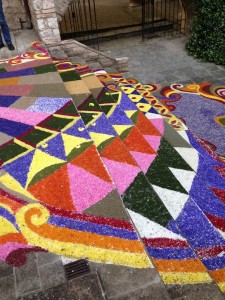 gladiator dress walking the streets to illustrate the importance of the Hispellum festival (the ancient Roman festival that happens in August), and there were displays to demonstrate the Olive Oil Festival which happens in January. But best of all, there was a mini-Infiorata. A group worked through the night to create a flower carpet for the jury, and I was so happy to share it with our friends. It was a beautiful piece, unusual in that it went down stairs. Our final taste of the Infiorata.
My understanding is that Spello doesn't expect to win the competition. It's just happy to be nominated. And it's given me an appreciation for the amount of work that goes into the town's holding its traditions close, and enlivening each street with gorgeous floral arrangements. Yesterday, a tourist remarked while taking photo after photo of the alleys around our house that Spello was full of flowers. I laughed and agreed, while thinking that he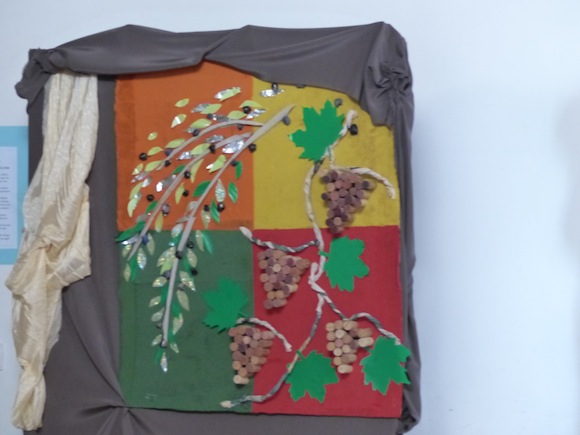 probably doesn't know the half of it. Then he put down his camera, smiled at me, and said, "Complementi."
And I thanked him. Feeling a little sheepish, because I had nothing to do with the bountiful flowers that grace the alleys and line the steps and window boxes. That is, unless you count my dead mint crinkling on our terrazza. And yet, I feel proud. I've been part of the motion and part of the celebration.
This is my city of flowers, now.
And I'm hopelessly in love.