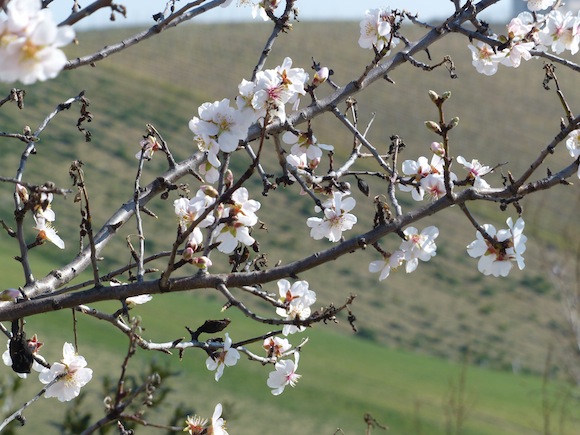 We awoke to mists shrouding the distant hills. Doreen and I met at the breakfast table, and discussed the quiet of the night. She noted that Spello isn't exactly loud, but we agreed that the silence of people being quiet is different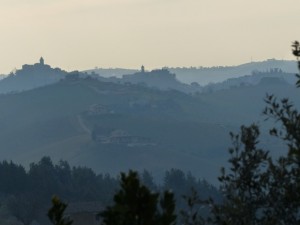 than the silence of no people. One by one, everyone gathered for coffee, cakes, jam, cheese. Siena and Gabe quickly finished breakfast in their haste to get back to their play amongst the vines. The rest of us chatted, and had more coffee, and eventually decided to go for a walk. We woke up Nicolas (ahh, 14-year-olds on vacation), and then collected the other two and walked out into the brisk morning. The walk was lovely, around the road until we ended up across the valley from Dwight's. Siena continued expressing her rush of affection for the countryside, until Nicolas confessed to me that he was worried she might pop.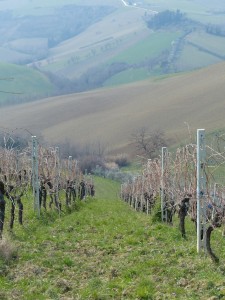 Dwight told us about growing vines, the difficulties of organic production, and the history of blights. He also had to answer each one of us as we separately wondered aloud why there were artichoke plants at the front of each line of vines at one vineyard. Doreen told us that some vineyards keep roses at the head of each line because rose bushes are more finely tuned to fungus and disease than grapevines. So if the rose bush shows signs of distress, the farmer must immediately give attention to the vines—much like a canary in a coal mine. Dwight said this doesn't work for organic growing, because organic wine production is all about prevention. If the rose bush shows signs of fungus, it's too late for the vines that are being grown organically. You would have to apply an anti-fungal that is not organic-approved, and thus lose your organic status. But why artichokes? Oh, that is actually just to use up every scrap of land, and because the artichokes require no maintenance. And, of course, the artichokes are apparently marvelous.
Back at the house we packed up to leave, and made some wine purchases. That's what's great about being a refugee in Italy—you have a wonderful time, then go home with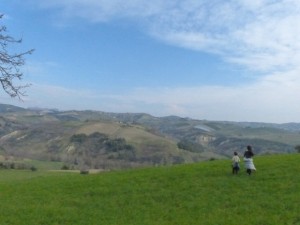 bottles of wine for souvenirs. We bought Dwight's pride and joy, a keepsake box of his four single-grape wines and the blend "Confusion." He looked at it so fondly, saying goodbye. And it was at this point that we learned from Paola that the water in Spello never went off. I guess that's the second great thing about being a refugee in Italy—the comical confusion about the whole affair. We said goodbye to Dwight, Alessandra, and the dogs, and headed to Ascoli Piceno.
The drive answered a lingering question for us. Do we still need to be doping Siena up on Dramamine for every drive? We didn't think to dose her for the less-than-30-minute drive,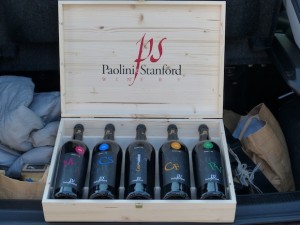 and it turns out she does, in fact, still need Dramamine. Truly. And that's all I'm going to say about that.
We walked through Ascoli a little while Siena got her legs under her again. What a beautiful town. Hungry now, we went to a restaurant Dwight recommended, Migliori. It was fantastic. I ordered a grand fried platter, and was thrilled—Ascolani olives, fried artichokes, lamb chops, and even squares of fried custard (which confused me, I thought "cremini" would be mushrooms, not cream, but it's always a pleasant surprise to find a little dessert amongst your meal). I've had Ascolani olives several times, and about half the time the meat filling within the fried olive has the taste and texture of ground olive pits. But this was succulent. I was well pleased. Also with my contorno of cicoria, well braised with excellent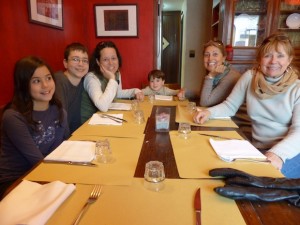 olive oil and pepperoncino. Doreen and Paola ordered wonderful spinach ravioli dressed simply in butter. The butter really made the handmade pasta shine, and the dish was true culinary synergy. Keith had ravioli in ragù that he enjoyed mightily. Unfortunately, Gabe's tagliatelle ai porcini did not boast fabulous porcini, prompting us all to vow to never order porcini again outside of porcini season. I guess this should've been obvious, but if they are not in season, they have to be jarred. And while these had a flavor much nicer than those from the day before, the texture is invariably an unappealing cross between slimy and mealy.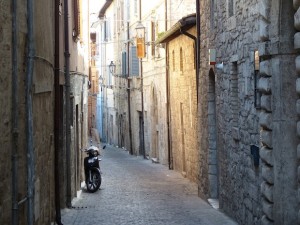 We really enjoyed the wines. Instead of getting a bottle, we ordered two half-liter pitchers so we could compare two local wines. They were completely different from each other, so I was glad we did the experiment. In the first one, Doreen noted an aroma of horses and Siena detected the scents of nutmeg and ricotta. The second one Keith and I both thought was reminiscent of smoky bananas—in a good way, we all were smitten with this wine. And at €5,00 a bottle, it was quite the find. I tried researching these wines once home, so I could remember their names, but I came up empty handed. But I wonder if it almost doesn't matter. All the Le Marche wines I've tried—the one left for us when we rented a house in Force, Dwight's from his PS Winery, these from lunch—are all absolutely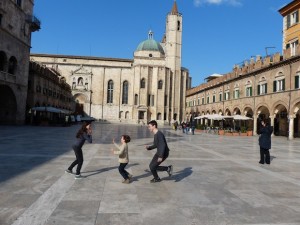 packed with character. Not a dull one in the bunch. I recommend going to your local wine shop, and bringing home a wine from Le Marche. I think they are now my favorite in Italy. Complicated, full, and brimming with personality. I've read the the whites are justifiably lauded, but it's the Marche reds that have stolen my heart.
After lunch, we went to the main piazza and Doreen, Paola, and Keith enjoyed coffee in the grand,  historic Caffè Meletti, while I stayed with the children who were playing tag with great enthusiasm—their favorite piazza activity. The piazza was empty, and they ran and sprinted, and giggled with joy. We wandered back out of Ascoli, to part ways from our friends for the drive back to Spello.
It was a wonderful exodus. If the incomprehensible ways of the Perugian water authority means an impromptu mid-week vacation with friends, wine, nature, new towns, great food, and exploration, they can shut off my water any time.