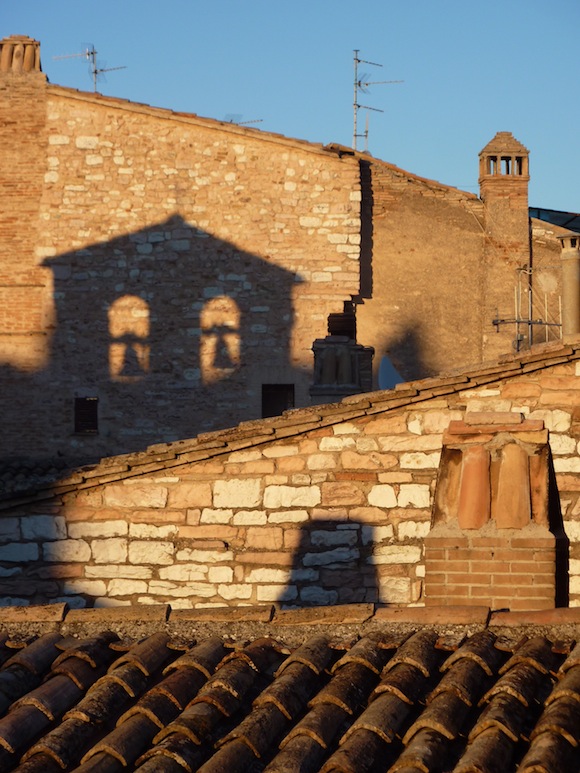 We went for a walk today, through the streets of Spello that we have barely explored. As we were walking, we passed Mario, the neighbor who, whenever we greet him, stops to tell us that he is married to a French woman and has intelligent children—one who works at EuroDisney and one is a professor at the University of Lyon. Every time. We have started listening when we are in our house and hear him greeting other people in the street. Does he pull everyone aside and tell them the same story? And where is his wife? Something feels amiss there. Unbelievably, he didn't tell us about his wife and children this time. I think he was astonished that we were out walking when it was supposed to rain. He questioned us about this several times. You are going walking? But it's going to rain. Do you know it's going to rain? When he finally made peace with this curious question of why the crazy Americans would go walking in the misty rain, he suggested we turn left where we had started to go straight. He said it was really pretty, and he may have said he lived there.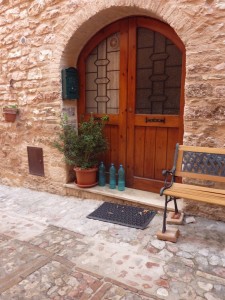 In any case, it was really pretty, but as we walked, we noticed an odd pattern. Many of the houses had 3 full bottles on their door thresholds. At first it was 3 water bottles, but then we noticed that some of the bottles were not water bottles, but rather coke bottles of the same size as the water bottles. Not only that, but the bottles were usually arranged in the same way, spread across the threshold with equal space between the bottles and between the bottles and the walls. Why? Is it to indicate something? Is it some odd form of recycling? Is it a superstition? The mystery of Mario, the mystery of the bottles. There are so many things we have yet to understand. Here are others:
1) Really, why the bad bread? Okay, so there was that salt war (Walking on Castles). That was several hundred years ago (if that's even the reason the bread is unsalted; if it's not the reason, what is the reason?). It's really okay to put salt in bread, nowadays. Pope Paul III won't come back from the grave and say, "See! I knew you wanted salt all along." Truly, just go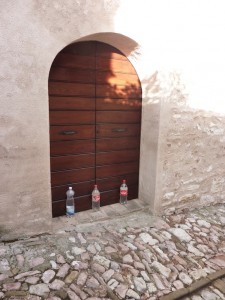 ahead. Salt the bread. Moreover, it's okay—more than okay—to make bread with a soft, spongey interior. I know you can do it. Ciabatta is wonderful—a masterpiece of bread making. One need not be satisfied with bread that dries the mouth like silica gel. Speaking of baking, what is that amazing almond smell coming from the bakery every morning? The only thing I've seen there with almonds is biscotti, and they often don't even have that, but the almond perfume wafting over the street is pervasive and marvelous.
2) For my gluten-free friends: Why is there such an awareness of gluten-free here? I looked up health food stores and found out that doctor's regularly test for celiac disease. I've seen many restaurants that state they have gluten-free pizza or gelato, and many foods with labels that they are gluten free (including things like cappicola, which I never would have suspected of having gluten). Apparently, Italy is a foremost producer of gluten-free foods. Why is that?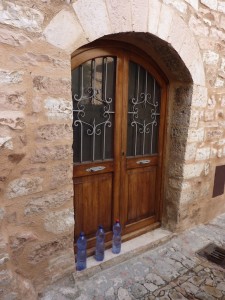 3) Cheeseways—why do some regions develop intricate and varied cheeseways, and some stick with pecorino? Is it that more Alpine areas are better suited for cows, and it is the copious quantities of cow's milk that kick-start a culture into wondering what the heck to do with all this dairy, and thus work at preserving it through cheese? Does this have anything to do with the lack of olives for eating in this area that also lacks cows?  That is, because there is a lack of cream, there is a lack of butter for cooking, and thus all the olives are used for oil, rather than snacking?
4) Why is it hard to open a bank account? In the States, if you walk into a bank and ask to give them your money, they'll do cartwheels to take it from your hands. They'll even give you a toaster in gratitude. Here? They tell you to come back later. Or even later. And then you find out through the grapevine that they are hoping you will just go away because they are never giving you a bank account. And then when you do find a bank willing to hold your money and play with it, the amount of paperwork is staggering. It requires signing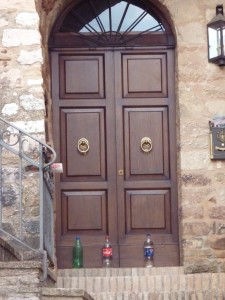 one's name at least 25 times. Is the banking system different here, where the amount of money lodged at the bank has nothing to do with the revenue the bank generates? I don't understand why they don't want our cash.
5) How is everyone else getting out tomato sauce stains? Everyone looks so clean and crisp and polished. I haven't even gotten around to ironing.
6) Even with a pausa, how is everyone functioning on a sleep schedule that involves eating at 8 PM (at the earliest), going to bed somewhere between midnight and 3, and then getting up at 8? What's the secret?
7) Do people really make a huge lunch and then a smaller dinner, like we were taught in our Italian textbooks? Or is that tradition shifting? It seems like a difficult tradition to maintain given working schedules. And I'm pretty sure I smell more wafting delicious cooking smells at dinner time than at lunch time. I wonder if that's become a weekend thing? Part of me wants to try to make 3-course lunches, and then mostly leftovers for dinner—but I meet so much internal resistance in the form of, "but then I'd have to be cooking when I'm usually out getting groceries", etc etc. So I'd like to know, is this still the norm, or has this changed?
8) Arturo told me that when it snows, the way to avoid slipping on the cobblestones is to put sheep's wool socks over your shoes. Fascinating. But I'm sure that's not what the ancient Romans did. So when there were ancient Romans here, living, going to the amphitheater, drinking water from the aqueduct, enjoying the baths—how did they get around in winter without slipping? Those sandals seem inappropriate for snow.
9) So few children have braces here. I wonder not only why that is, but does not having braces actually lead to any negative oral health complications? We decided against braces for Nicolas, so it's nice to have him surrounded by children with similarly slightly odd bites. I just wonder if it's a conscious choice, or have orthodontists not made inroads into Italy yet?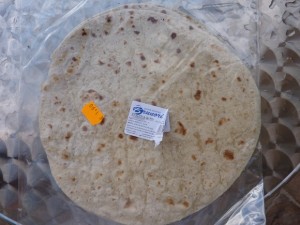 10)  What are the origins of piadina? They seem an awful lot like flour tortillas. They first came to my attention because there is a little shop in the borgo that is a "piadineria". And we found out that piadina is a kind of flat bread, used for sandwiches. I bought some at the Superconti, and we had them yesterday. I filled mine with prosciutto, marinated mushrooms, lettuce, mayonnaise and mustard. It was delicious. And very similar to flour tortillas. If they are taking requests for items to start importing and adopting from Mexico, I'd like to nominate cilantro. Or are piadina originally from Spain, and both Mexico and Italy have adopted them? I wonder if I can make quesadillas out of them.
11) What do baristas really think of people who order cappuccino after 11 AM? I've always been told that this is a decided no-no. One never, ever orders coffee with more than a splash of milk after 11 AM unless you want to be considered a rube. So I've been putting up with macchiatos in the afternoon—that's espresso with just a bit of foamy milk on top. More for color than anything, it doesn't do much to soften the bitterness of the coffee..which is tough for me, as I like my coffee to taste like coffee ice cream. So I asked Arturo. Granted, I asked him in my halting, broken, feeble Italian, so perhaps I didn't ask what I thought I asked. But when I asked him, he looked at me confused and I think said that he often has a cappuccino in the afternoons. It's perfectly fine. So now I'm wondering—Is this an urban legend? I've tried ordering cappuccino in the afternoons since then, and the barista doesn't seem to bat an eyelash. But is she secretly going home and telling her husband, "You're not going to believe what this American ordered today at 2:00…"
12) Why so many doner kebabs? It's the most common food I see, after Italian food. Don't get me wrong, I'm not complaining, I think doner kebabs are delicious. I just don't understand why there are so many kebab shops. I looked up both doner kebabs and Italian immigration. And I found that doner kebabs are Turkish (though there are variations, of course in Greece, Mexico, and elsewhere) and that Turkey isn't anywhere in the piechart of immigrants. You know who is on the piechart? The French. So why aren't there more cheese shops? Moroccans are in the top three, but I've seen no couscous.
13) Let's talk breakfast. I think I've acclimated to the small, sweet breakfast (you'll have to ask my family, out of my hearing, if I'm cranky in the mornings). But at times my American habits make the sugary breakfast seem odd. On a bag of cookies, it will show that 6 cookies plus some milk and fruit salad is a balanced breakfast. How can this be so different from what we believe in the States? Do they actually believe it, or it just feels good, so it must be okay? Have I been overcautious with my protein-pushing all these years? I really don't think so.
14) How did anyone do any of this expat transition before the internet? I think of my ancestors, leaving the middle east and landing in New York City and then heading west to Arizona. I think of Keith's ancestors leaving Italy and heading for Minnesota. How did they know where to go? They could really just trust that their Uncle Billy lived out there and it was okay, so why not uproot your life and try it out? It seems to take an inordinate amount of trust. Trust in Uncle Billy, but also trust in themselves to work out kinks in the process, and trust in the universe. I, myself, am working on that trust. Trust that the language skills will progress, trust that I will know when they have, trust that my children will be okay at a school where they don't speak the language, trust that we'll eventually get a bank account, trust that if my children don't have the right school supplies the world will not end. Trust that as mysteries unravel, I'll be able to feel my way forward, into the light.